Top 10 Highest Paying Sales Jobs 2022
These are the 10 sales jobs with the largest compensation packages.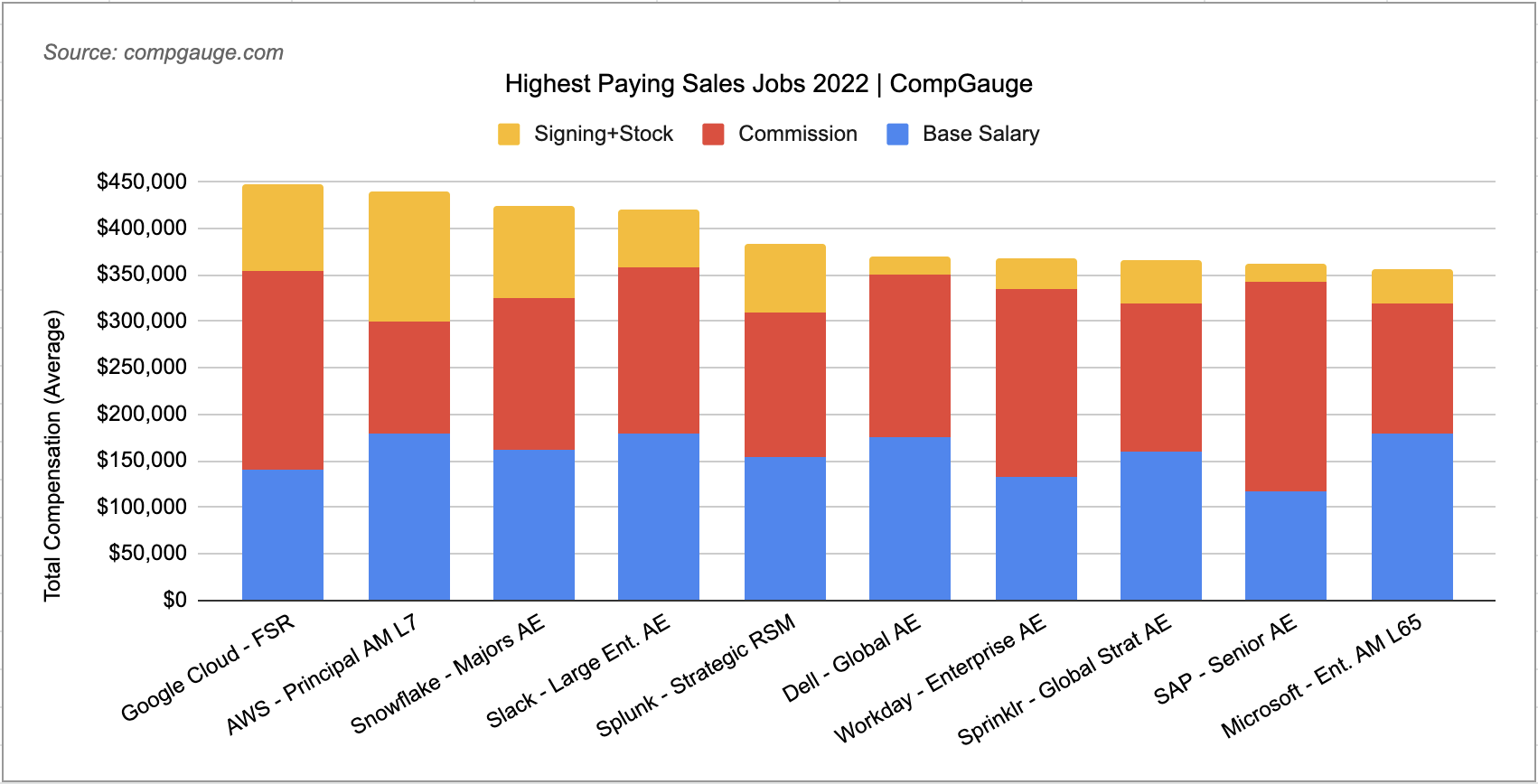 It's well known that top salespeople can make a lot of money, but just how much money can top salespeople earn, and at which companies do they earn the big bucks?
CompGauge analyzed over 10,000 sales salary data points to determine how much the top sales reps in the United States earn and which companies are writing these sales reps the big checks.
We break it down by the highest average total compensation packages, base salaries, commission at 100% of quota, and stock and signing bonus packages.
What do the highest paid sales reps sell in 2022?
It's clear that the highest paid salespeople all work in the technology industry. Technology salespeople are getting paid about 20% more on average in 2022 compared to 2021. Sales reps in this industry are responsible for selling technology products, services, and solutions to new and existing clients,  ensuring everything is running smoothly with your clients, and maintaining a steady pipeline in your territory.
Here are the Top 10 Highest Paying Sales Jobs in 2022
These jobs are all based in the United States. The cities these jobs are available in include New York City, San Francisco, Washington DC, Boston, Austin, and other major cities (some are remote, too).
The figures in this report represent the averages for each respective position.
1. Google Cloud – Field Sales Representative
Total Compensation: $448,202
Base salary: $141,363
Commission at 100% of Quota: $211,837
Signing + Stock Bonus ($ Value / Year): $95,000
The Mountain View, CA headquartered Google Cloud offers the highest average total compensation package, making them the leader on our list with an average total compensation of $448,202 with a 40/60 base-commission split for OTE.
Google Cloud Field Sales Representatives, typically level L6 or L7, partner with the largest Fortune 500 companies to enable their digital transformation. You'll work to move companies onto Google Cloud's cloud infrastructure, cloud database, and cloud analytics products. You'll also be responsible for growing their existing consumption of their Google Cloud usage.
Google Cloud competes with seasoned tech companies like IBM, AWS, Microsoft, and Oracle. Google Cloud recently announced in February 2022 a 45% YoY growth and $5.5b revenue for their most recent fiscal Q4, representing a strong potential for reps to continue to convert customers to GCP.
2. Amazon Web Services – Principal Account Manager L7
Total Compensation: $422,500
Base salary: $180,000
Commission at 100% of Quota: $120,000
Signing + Stock Bonus ($ Value / Year): $139,000
Amazon Web Services, based in Seattle, WA, pays their Principal L7 Account Managers the second highest average total compensation as well as the highest average base salary out of all sales jobs (assuming you live in a Tier 1 city such as NYC or San Francisco, however). Although second place for now, they have a good chance at making first place next year thanks to the base salary caps rising to $350,000.
Amazon Web Services Principal Account Managers are responsible for selling Amazon Web Services, which is the most popular cloud technology platform. You'll have IaaS, AI, ML, managed DB, and several other cloud products in your tool bag to sell to the largest global enterprises.
You'll be competing with other tech giants like Microsoft, Google Cloud, Oracle, and IBM in this space. AWS reported earlier in 2022 40% revenue growth and $18 billion in revenue in their last Q4, signaling there is still a ripe opportunity for high performing reps.
3. Snowflake – Majors Account Executive
Total Compensation: $425,000
Base salary: $162,500
Commission at 100% of Quota: $162,500
Signing + Stock Bonus ($ Value / Year): $

100,000
Snowflake Majors Account Executives rake in an average total compensation of $425,000, enough for third place on our list. The role features a 50/50 Base-OTE split with up to six figures in additional compensation from annual stock and signing bonuses.
Snowflake, born out of San Mateo, CA, is one of the fastest growing cloud data warehouse solutions. Majors Account Executives will pitch the cloud data platform to global enterprises in the Fortune 500 that are looking to move off of their legacy on-premises workloads.
Snowflake's biggest competitors include traditional database companies such as Oracle, Microsoft, and IBM, as well as new cloud juggernauts such as Databricks. Snowflake had the largest software IPO in history in 2020, and since then, the company recently posted a triple digit product revenue growth in 2022.
4. Slack – Large Enterprise Account Executive
Total Compensation: $420,000
Base salary: $178,750
Commission at 100% of Quota: $178,750
Signing + Stock Bonus ($ Value / Year): $62,500
Slack Large Enterprise Account Executives rank fourth, thanks to an even $178,750/$178,500 base/commission split, with an average total compensation package at $420,000
Slack, headquartered in San Francisco, CA, offers one of the top solutions in the workplace communication and productivity space. Their enterprise ready collaboration software allows employees to chat, share files, handle support tickets, and many companies even use it to interface with customers.
Slack's biggest competitors are Microsoft Teams and Google Workspace. Although recently acquired by Salesforce, the company is rapidly growing, as it sported a 36% YoY growth rate in fiscal Q1 2022.